National Code: ACM30321
Course: Certificate III in Wildlife and Exhibited Animal Care
Nationally Recognised Training: Yes
Government funding | Job trainer: Yes Smart and Skilled and Job Trainer funding may be available for eligible NSW students, Please contact our office either via email: [email protected] or p: 1300 653 501 for more information.
Course Description
ACM30321 Certificate III in Wildlife and Exhibited Animal Care is a nationally recognised qualification for people wanting to work in the Exhibited Animal Industry. It will provide you with the knowledge and skills to undertake a range of animal care functions in a zoo, wildlife sanctuary, aquarium, or another facility where animals are cared for or exhibited.
What kind of careers and work could I do?
Job roles covered by this qualification may include zookeeper or animal carer, native wildlife carer, wildlife rehabilitator, animal technical officer or aquarist.
What are the entry requirements?
This course is by application only. Completion of Certificate II in Animal Studies ACM20110 or equivalent vocational training and/or work experience across a range of work settings is required.
2024 Wildlife and Exhibited Animals Care Course Schedule
JANUARY 2024 | TERM 1 | Tuesday | Online
Day: Tuesday
Mode: Online via Microsoft Teams, Virtual Classroom
Training: 1-hour per week
Time: 2.30pm to 3.30pm – NSW Eastern Daylight Savings Time
First Training Session: 23 January 2024
Holidays: NO CLASSES held on NSW gazetted School and Public holidays
Last Training Session: June 2025
Availability: Enrolment NOW OPEN!
Duration: 18-months
How is the course delivered?
This course is run via distance learning | virtual classroom using Microsoft Teams. You will have an experienced Exhibited Animals trainer for an hour a week via a virtual classroom environment. Participants will be required to attend a one-hour virtual class per week, plus spend approximately 3 additional hours a week working on assessments and course content. An orientation session will be run after your enrolment has been accepted, and before the course starts, during which we will provide you with further information and resources including course learner guides, Teams access and information about virtual weekly learning sessions.
Online sessions will run as per the NSW school calendar for 18 months. Classes do not run during NSW school holidays.
What are the units I am required to complete?
You need to complete 16 units for this qualification, 12 core and 4 elective units of competency.
All course material is included in the price, including all the training and assessment resources.
Core Units
| | |
| --- | --- |
| ACMBEH302 | Provide enrichment for animals |
| ACMEXH301 | Work within a zoological facility |
| ACMEXH303 | Prepare and maintain animal habitats |
| ACMEXH304 | Assist with capturing, restraining, and moving animals |
| ACMGEN301 | Prepare and present information to the public |
| ACMGEN303 | Assess the welfare status of an animal |
| ACMGEN304 | Promote positive wellbeing in self and others in animal care workplaces |
| ACMGEN311 | Maintain and monitor animal health and wellbeing |
| ACMGEN312 | Provide nutritional requirements for animals |
| ACMGEN315 | Communicate effectively with clients and team members |
| ACMSUS401 | Implement and monitor environmentally sustainable work practices |
| ACMWHS301 | Contribute to workplace health and safety processes |
Elective Units
| | |
| --- | --- |
| ACMEXH305 | Monitor animal reproduction |
| ACMEXH308 | Develop husbandry guideline |
| ACMSPE315 | Provide general care of common native mammals |
| ACMSPE321 | Provide general care of non-venomous reptiles |
What is the course cost?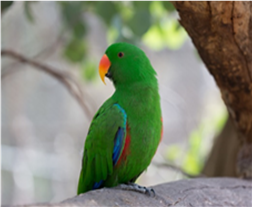 This course is available as a Smart and Skilled, NSW government-funded course for eligible students*. The price for the course is $0-$7,730 full fee, and may change depending on your eligibility for a concession or exemption or your eligibility for other funding options~.
$4,350.00* (Smart and Skilled FEE for NSW residents)
$0 Exemption ~ (please see below)
$7,730 Fee for service (non-subsidised cost, this is the full price of the course and for those NOT living or working in NSW)
Fee Free, Exemptions and Concessions
~ Exemption: if you have a disability, chronic health, medical or psychological condition, you may be eligible for an exemption, which means that the NSW Government will cover the full cost of the course. Aboriginal and/or Torres Strait Islanders are entitled to an exemption from the course fee.
~  Concession: if you receive a Centrelink/Commonwealth means-tested payment, you may be eligible for a concession
Full fee Cost: $7,730.00 + insurance cover for volunteer work placement.
Payment plans are available at no cost, we do not use Ezy Pay or other interest and fee bearing payment plans.
You can pay via credit card or direct deposit, we do not accept cash or cheques.
How interactive and practical is the course?
At NTM this course is practical, interactive and provides sufficient time to complete all your assessments. This course includes interesting readings and practical assessment work to be completed at home or at work. To assist you in becoming an Exhibited Animals keeper, you will complete a Husbandry Manual Guideline on a species of animal that you work with. There will also be written assessments, projects and case studies related to work-based training and assessment activities. You will be required to complete a daily diary to provide evidence of you undertaking one day a week work placement in an Exhibited Animals workplace.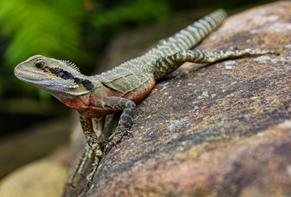 Pathways to further study
After successfully completing the ACM30321 Certificate III in Wildlife and Exhibited Animal Care, graduates have several pathways options. NTM does not currently offer this following pathway, contact our Career Development Practitioner for free career advice:
Entry into ACM40221 Certificate IV in Animal Facility Management
Microsoft 365 and Teams
Our Learning Management System (LMS) is Microsoft Teams. As a student at NTM, you will have your own FREE Microsoft 365 account, giving you access to all popular products, including Teams, Word, and PowerPoint. For the duration of your course, we will provide you with an educational Microsoft account, giving FREE access to the Office 365 product family. As you will have your own account, this will save you on purchasing the Office 365 suite or a subscription. If you already have your own subscription to Office 365 or are planning on purchasing Office, remember you will get all the Office products for FREE when you enrol.
I would like to discuss the course before I enrol
Please call our learning consultants on 1300 653 501 to discuss the course. At NTM we are committed to enhancing your learning potential by providing a range of services. If you would like to speak to a qualified Career Development Practitioner before enrolling or to discuss Recognition of Prior Learning (RPL) about your previous qualifications or workplace training experience, just contact our office.
To support your learning journey, we have a range of support services available including Career Development, Counselling, Disability and Adult Basic Education services. As a student of NTM, these support services are available at no extra cost.
Unique Student Identifier (USI)
From the 1 January 2015, anyone enrolling in a TAFE or Registered Training Organisation needs a Unique Student Identifier (USI). If you do not have a USI or have lost it, you can get it quickly and at no cost, at www.usi.gov.au  A USI gives you access to an online account and will contain all your nationally recognised training and results from 1 January 2015 onwards.
How do I enrol?
Enrolling is easy by following the steps below.
Download the ACM30321 Certificate III in Wildlife and Exhibited Animal Care enrolment form here: NTM_Animals_Enrolment form 2024_v3.4
Email your completed enrolment form to [email protected] 
If you have any questions or would like to speak to a consultant, please call: 1300 653 501
Once you submit your enrolment form, our Senior Animal Trainer will call you to discuss the course requirements.
We are a 100% Australian-owned and operated company. Our headquarters is in beautiful Kiama on the South Coast of NSW. When you call NTM you will speak to a real local person, not an overseas call centre. All our teachers are located in Australia with local qualifications, experience, and training