On the 1 July 2018, we opened our Western Sydney Training Centre, in the heart of the Hawkesbury, Richmond. Located in the historic Toxana Business Centre, our Western Sydney Training Centre is a boutique venue for face-to-face training covering the Hawkesbury, Blue Mountains, Nepean and Hills areas of Western Sydney. We are located only minutes walk from Richmond Station and have a bus stop outside our Training Centre. The Western Sydney Training Centre is located only 20 minutes to the south-west of Penrith, 20 minutes north-west of Blacktown, 30 minutes north of Parramatta and only 15 minutes from Castle Hill. Our courses cover business, training and assessment, management and work health and safety.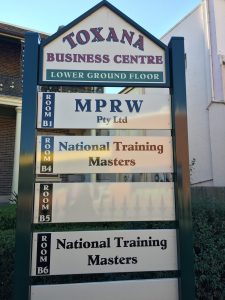 We provide customised training for individuals and businesses across Western Sydney. As a boutique training provider we offer small class sizes and one-to-one training in a range of high demand skills areas:
BSB41415 Certificate IV in Work Health and Safety
ACM20117 Certificate II in Animal Studies
TAE40116 Certificate IV in Training and Assessment
BSB42015 Certificate IV in Leadership and Management
BSB41015 Certificate IV in Human Resources
BSB41515 Certificate IV in Project Management Practice
BSB40215 Certificate IV in Business 
BSB51315 Diploma of Work Health and Safety
BSB50215 Diploma of Business
BSB50415 Diploma of Business Administration
BSB51918 Diploma of Leadership and Management
BSB50618 Diploma of Human Resources Management
Statement of Attainment TAELLN411 Address adult language, literacy and numeracy skills & TAEASS502B Design and develop assessment tools (coming soon)
Address:
Toxana Business Centre | Hawkesbury 
The basement (access from East Market Street)
147 Windsor Street
Richmond NSW 2753
Contact: all correspondence to National Office – Kiama
Telephone: 1300 653 501
Email: [email protected]
Post: PO Box 4225, Pitt Town 2756
Facebook: https://www.facebook.com/nationaltrainingmasters
Map:
About Toxana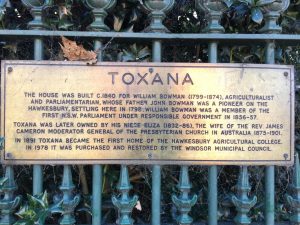 Toxana is a historic building located in the heart of the Hawkesbury, Richmond. This beautiful building has had a variety of uses, being firstly built by James Melville and George Marlin as a private home, by 1841 for William Bowman an NSW Parliamentarian and his family. In 1891 the building was used as temporary accommodation for students of the  Hawkesbury Agricultural College, which is now part of Western Sydney University, Hawkesbury Campus. In 1900 the building was used by the Military for the 3rd Infantry Regiment. In the 1980s the building housed the Hawkesbury Council offices. Recently the building was used as an art gallery, known as the Toxana Basement Gallery. In 2017, National Training Masters moved into the historic building to open the Western Sydney Training Centre, Hawkesbury.